M8 Solutions makes some big hires at the end of 2020

Paul Hinchy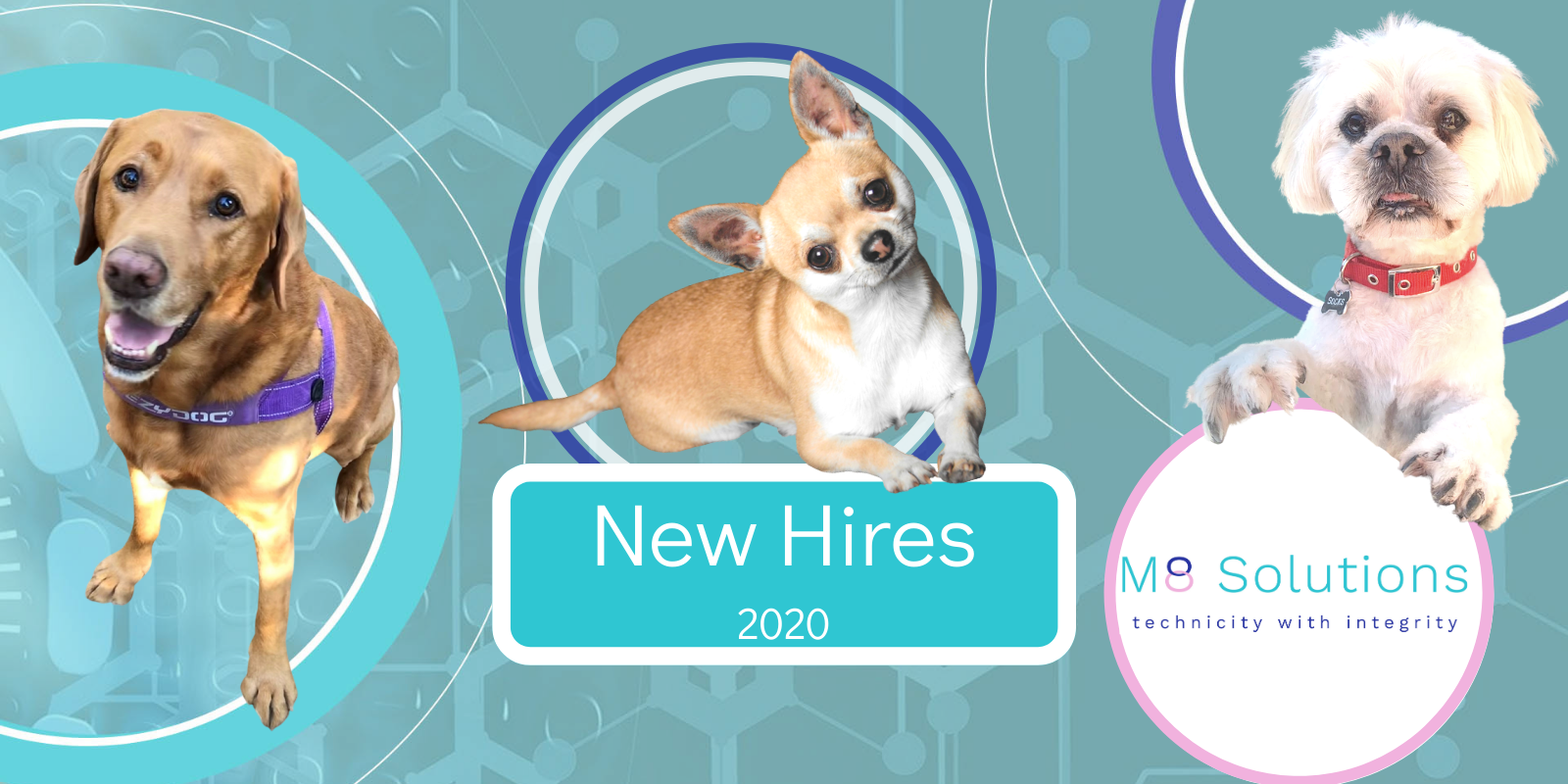 M8 Solutions made three big hires at the back end of 2020, bolstering their workforce considerably. Socks, Alfie and Cisco joined the team bringing experience, energy and expertise in their respective specialisms.
First new hire was Socks, Chief Stress Management Pup. Socks has over 12 years of experience in similar roles and has always worked closely with Paul Hinchy.

Paul says "When I was working with Tracy Scriven to set up M8 Solutions, we knew we needed a really effective hire for the Chief Stress Management Pup (CSMP) role and I didn't have to think twice for whom I wanted. With his experience in improving the stress levels of colleagues of all ages, Socks has a real pedigree for the role and we are so pleased he has decided to join the M8 Solutions Team".

Socks' key responsibilities with M8 Solutions will be to establish effective stress management techniques for the team, to keep the team motivated and to encourage a positive work/life balance that includes plenty of time for walks.

Socks will be reporting directly into Hinchy but will have time with all of the M8 Solutions team as his role progresses.
Only a week later the team at M8 Solutions was welcoming another new hire. This new hire was Alfie in the role of Head of BI (Biscuit Intelligence).

As Head of BI, Alfie will be responsible for ensuring that the team at M8 Solutions are fully briefed about biscuits, analysing their consumption and recommending ways to increase the team's intake. This is a skill he has developed over many years. Alfie will be reporting into Claire Bradley, Head of Brand Marketing.

She says "We are delighted that Alfie has agreed to join the team as Head of BI, I have worked with Alfie for 12 years in various roles and I can attest to his expertise in BI, in fact, I would go so far as to say that he has dedicated his life to the pursuit of biscuits. We aren't quite sure we should be sticking to Alfie's rigorous BI regimen of biscuits for breakfast, elevensies, lunch, afternoon tea, dinner and supper, but we admire his enthusiasm for the role and his willingness to share best practice."

The final new hire in 2020 was the formidable Cisco in the role of Head of Security.
While he may be small in stature, Cisco more than makes up for that in attitude, authority and assertiveness. Cisco will be reporting into co-founder Tracy Scriven. She says 'We are an IT company so we know a lot about cybersecurity, while Cisco is currently more of a traditional security pup, we will aim to get him trained up on the more technical elements of the job."

With 9 years of working closely with Tracy Scriven under his collar, Cisco is expected to hit the ground running at M8 Solutions. Scriven continues "I mean, technically, I am his line manager but, in reality, I believe he will be running the show. He doesn't take any nonsense and will be keeping the whole team in check; he is taking the role very seriously."

Cisco's responsibilities will include making sure that everyone sticks to the rules that he decides on, making sure all visitors to the company know he is there and very important, and, well anything he likes, really.

The pups have all settled in well and are enjoying their new roles. Welcome to the team Socks, Alfie and Cisco!
To find out more about the M8 Solutions Team, follow us on Linked In.